PRIVATE LESSONS are available in person or through Zoom.
The truth is that I consider private lesson teaching to be the heart of my career. I love getting to know you (my students) and your families. We're in this together! It's a huge privilege for me to walk alongside you as your love of music becomes a growing part of your life!
There is so much in my students that I admire. You are all intelligent, generous, creative, wonderful human beings — yes all. There is something about the pursuit of music that is complimentary to high academic achievement, very true, but I see the most important impact of music studies in something much more foundational. What I love to see most in my students is the connections not only to one another (the camaraderie and lifelong friendships), but also the interest in telling stories through their instruments. I love to hear everyone delving into everything from Mozart to a transcription of their favorite song on Spotify, to even creating their own music. It's sharing life with others, whether they're in your flute section, from a different school, or even across eras of time.
I support my students in every endeavor, whether that's the day-to-day discipline of practicing, ILMEA auditions, collegiate auditions (whether as a music major or not), and beyond, especially for those who pursue a career in music. I am YOUR long term advocate and cheerleader, and I am especially thrilled when I see you doing the same for each other. There's nothing that brings me more joy than when I get photo texts from students together at an event just to say hi.
Here are some of the priorities and values I hold in my teaching: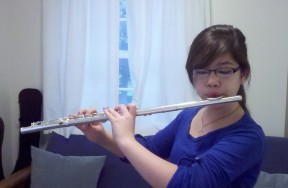 A proven record of success in auditions and competitions, including school, ILMEA, collegiate, national, and more.
A healthy approach to achieving goals that includes work on time management, goal-oriented and positive mindsets, and identifying and controlling stressful situations.
A wholistic approach to music that includes discussions on overall health and fitness to support a student's well-being and to avoid injuries and anxiety.
The methodology and foundational tools necessary to be a great player.
Most importantly, I teach from a musical perspective that embraces a POSITIVE view of YOU as a creative problem-solver, leader, and artist who knows how to tell a GREAT story. There is a spark of beauty that you are meant to bring into the world. Have confidence and most importantly, enjoy every moment!
Be in touch with questions! Happy fluting!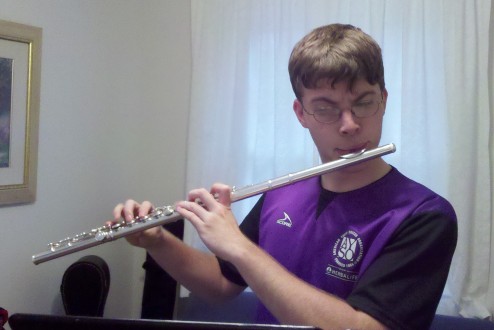 Studio policies:
 Lesson fees are due at or before the start of each lesson.  These may be paid monthly at the first lesson of the month or weekly at each lesson.  Lessons may be paid in cash, by check, or using Venmo, Chase Quickpay, or Applepay.
 Students may change their lesson times to accommodate emergencies including sickness or other conflicts.  Please avoid skipping lessons whenever possible, as skipping lessons causes a quick regression in skills.
Lessons missed without any prior notification will be paid in full.
Should I need to cancel a lesson, I will always offer a time to make up the missed time.
Lesson times are scheduled in 1 hour increments.  Should your student arrive late, it is likely that I will have to conclude the lesson at the previously scheduled time to accommodate following lessons.  If you are aware of a problem (i.e. traffic, etc.), please text me with an estimated time of arrival as you are able.
Students are expected to bring the following to all lessons:

A well-maintained instrument
A blank notebook, including a simple written log of their daily practicing.
All assigned music, including repertoire, scales, and etudes
A cleaning cloth and cleaning rod.
A totebag designated only for their music.

I am always happy to assist students with any school or youth orchestra ensemble music in their lessons to help prepare for concerts and auditions.  If it would help to have an extra lesson, please feel welcome to ask.
A music stand, metronome, and tuner are useful for effective practicing.  In addition to items that can be purchased at most music stores, there are many wonderful apps for smartphones or tablets.  These do not need to be brought to lessons.
Students who are interested in collegiate level study will benefit if we begin discussions about this pursuit as early as possible.  It is totally fine to ask a lot of questions to "test the waters" before jumping in!
Please keep communication open to help me understand what is best for you or your flutist.  I'm always happy to hear your observations and suggestions.
Good advice for students considering auditioning for music programs in college:
"Entering freshmen should be able to play one of the Bach sonatas, the Hindemith Sonate, a French concours piece by Enesco, Faure, Chaminade, or Gaubert and possibly a Mozart Concerto…Entrance auditions help to identify a prospective student's ability, promise, and problems to be addressed. I have learned that students can pay more attention to playing musically after they have organized the fundamental elements of playing: good breath control, scales, studies, fingering accuracy, good balance and support of the flute for optimum firmness of the lip plate on the lower lip, and the more subtle aspects of embouchure control. In an audition a student should demonstrate good tone and dynamic range, knowledge of scales and arpeggios, good rhythm, and the ability to shape a musical phrase. Accurate rhythm is a good indicator of musical talent; if I point out an incorrect rhythm, I want to hear the correction to be sure that the student is properly sensitive to the underlying pulse."
-Walfrid Kujala, Flute Talk Magazine, November 1991
ONLINE LESSONS
To prepare for your lesson, please read the following:
COMPUTER/IPAD/IPHONE: Please use a laptop or desktop computer with a camera and microphone. These can be internal or external, whatever your preference may be. As a secondary option, you can use your iphone or ipad, but sound quality does seems to be slightly better for the student when using a computer. We will be using Zoom so that I have the option to share music with you, etc.  However, if this is problematic for you after we've tried Zoom, we can also use Facetime. The video quality with Facetime is fine, but we lose the other functionality like screen sharing that can be helpful in lessons.
LIGHTING IS IMPORTANT: Please find a well-lit part of your house. Facing a window with indirect sunlight is even better. If the room is dark, I've found that the quality of the video can be severely compromised, although I can obviously still hear well.
LOCATION: Please find a larger space. Ideally, when you look at yourself on the screen, your flute should be in full view and centered within the frame.  This allows the best possible sound and also allows me to see both your hands and embouchure. You can use a bedroom, dining room, basement, whatever space you prefer that will also allow you to stand a few feet away from your camera.
CAMERA VIEW: Please keep the view from the camera unobstructed, again, so that I can have complete view of both your hands and embouchure. This is especially important with regard to the placement of your music stand.  If your camera angle allows you to stand for your lesson, as usual, that would be preferred.  However, if this is not possible and the computer must remain on a table, sitting is also fine.
PAYMENT: You can pay for your lesson via Venmo, Chase Quickpay/Zelle, or Apple Pay.  These are preferable to checks, if possible, but checks are also fine and can be sent directly to my home.
USING ZOOM: To join me in a lesson through Zoom at the time of your lesson:

10 minutes before your first lesson and from your laptop computer, please go to Zoom.us/join.  Please enter the Meeting ID and Password that I will provide for you ahead of time.

Once you are on the video screen, please make the following simple changes to your sound settings to maximize the quality of the audio transmitted.

1. Next to the microphone/mute button, hit the up arrow.

2. Click on Audio Settings.

3. In the "Microphone" section, make sure that your mic is chosen if you're not using the internal mic, and set the input level so that the marker is about 75%. Make sure "automatically adjust volume" is NOT checked.

4. Hit the "advanced" button in the lower right corner. If this button is not visible, you need to update Zoom to the latest version.

5. Make sure "Turn on original sound" is checked. Next, find the three drop down menus.  Those should be changed to: Disable, Disable, Aggressive.

6. Close the page.  When you go back to your Zoom main screen, in the left upper corner, it should say, "Turn off Original Sound". Now you're all set to go!