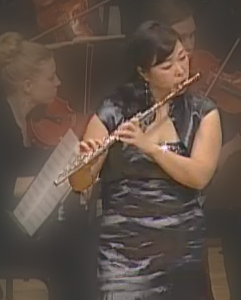 Jennie Brown embraces an entrepreneurial spirit in her career. As an Innova Recording Artist, she released her debut solo album in 2015, "Looking Back: Flute Music of Joseph Schwantner," to critical praise, including an Honorable Mention in New York Classical Review Critic George Grella's "Best Classical Albums of 2015" list.
"As evidenced by this album, Jennie Oh Brown really understands Schwantner's compositional intent, and her playing reflects the beauty, intensity, rawness, and virtuosity his music requires. She excels in changing characters rapidly, and her beautiful, expressive sound is perfectly suited to Schwantner's emotional, lyrical, and acrobatic music." 
Jennifer Slaughter, National Flute Association, Flutist Quarterly, Fall 2016 
As Artistic Director and flutist with Picosa, www.PicosaMusic.com, Brown and her colleagues launched their first concert season in 2014 with concerts throughout Chicago and the surrounding suburbs.  Among the many exciting past concerts, Brown performed at Ear Taxi Festival, a city-wide celebration showcasing world-class new music, as both a soloist and member of Picosa and at Constellation Chicago, the Chicago Cultural Center, and more.  Upcoming performances include "Live from WFMT with Kerry Frumkin" and a featured performance for the elite Rush Hour Concert series.  Picosa has also established residencies at both Elmhurst and North Central Colleges.  Brown is also a founding member of the Heare Ensemble, which will premiere a newly commissioned work by Carter Pann in 2017 for flute, cello and piano through SDG Music Foundation.  Additionally, the ensemble and Pann will embark on several upcoming tours and collegiate residencies.
In 2015, Brown launched and continues to serve as director and faculty member of Credo Flute together with Bonita Boyd, http://www.credo-music.org/credo-flute.  Brown has performed and served in five National Flute Association annual conventions and was a featured solo performer in the Chicago Flute Club Silver (25th) Anniversary Celebration Concert.  She has appeared numerous times as a performer on WFMT and is an active performer throughout Chicago in solo, chamber, contemporary, and orchestral settings including recent performances with the Milwaukee Symphony Orchestra and the Lyric Opera Orchestra.
Brown has recently published articles in the National Flute Association's Flutist Quarterly, Flute Talk, and Chicago Flute Club's Pipeline Magazine.  Dr. Brown has also performed in music festivals including Aspen, the Music Academy of the West, and Norfolk.  She graduated from the Eastman School of Music (DMA, MM, Performers Certificate), Northwestern University (BM) and the Interlochen Arts Academy (HS), and serves on the faculties at Wheaton and Elmhurst Colleges. Please visit: www.JennieBrownFlute.com